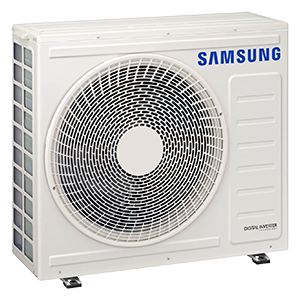 You probably already know about Samsung's history of innovation and reliability. But did you also know this includes innovative heating and cooling solutions for your whole house by utilizing a split system HVAC like a ductless mini split system? Ductless systems typically consist of a wall-mounted indoor unit connected to an outdoor unit, and they're a simple way to heat and cool your home without the ductwork of a traditional central air system.
For people with single rooms or additions that have different heating and cooling needs than the rest of the house, a mini split heat pump, including a ductless mini split system, can be a perfect solution. They are often more efficient and less invasive than a ducted system and offer greater control over the temperature of these types of spaces. Whether it's one room or many, new construction or a new addition, we can help you find an efficient solution that's perfect for you.

Wind-Free Indoor Ductless Single-Zone High Wall Heat Pump Unit
View Brochure
Model Family: AR**TSFABWKNCV
Purpose: Heat and Cool
Zone Capability: Single Zone
Efficiency SEER: Up to 24.5 SEER
Efficiency EER: Up to 15.5 EER
Efficiency HSPF: Up to 12.5 HSPF
Matching Outdoor Unit: Single-Zone: AR**TSFABWKXCV and AR**TSFACWKXCV
Matching Outdoor Unit: Multi-Zone: N/A
Energy Star Rated: Energy Star Rated
Refrigerant Type: R410A
Number of Fan Speeds: Three fan speeds
Sound Level: 22 to38 dB
Wireless Remote: Yes
Factory Warranty Parts: 10 Year Warranty with Registration
Manufacturer's Stated Benefits:
The system has a built in Wi-Fi adapter as standard to allow control remotely
7-segment digital display on front of unit to display temperature and unit status
Auto changeover
Fast Comfort mode to quickly reach set temperature
24 hour single event timer
Single User Mode to reduce energy consumption during low demand operation
Air filter cleaning can be done easily without opening the indoor unit
Smart install mode - startup system diagnostics operation to ensure system readiness during initial operation
The Smart Check automatic error-monitoring system detects and diagnoses problems .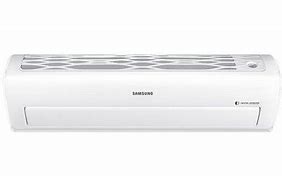 Quantum Ductless Single-Zone High Wall Heat Pump Unit
View Brochure
Model Family: AR**TSFYBWKNCV
Purpose: Heat and Cool
Zone Capability: Single zone
Efficiency SEER: Up to 23.5 SEER
Efficiency EER: Up to 13.95 EER
Efficiency HSPF: Up to 12 HSPF
Matching Outdoor Unit: Single-Zone: AR**TSFYBWKXCV
Matching Outdoor Unit: Multi-Zone: N/A
Energy Star Rated: Energy Star Rated
Refrigerant Type: R-410A
Number of Fan Speeds: 3 Fan speeds
Sound Level: 20-37 dB
Wireless Remote: Yes
Factory Warranty Parts: 10 Year Warranty with Registration
Manufacturer's Stated Benefits:
Auto restart
Sound ON/OFF with wireless controller
Motorized vertical auto-swing louver
2-Step Cooling
Good Sleep mode
Quiet mode
Dry mode
Dry mode
Clean and maintain your filter with ease

Outdoor Unit- Wind-free
View Brochure
Model Family: AR**TSFABWKXCV
Purpose: Heat and Cool
Zone Capability: Single zone
Efficiency SEER: Up to 24.5 SEER
Efficiency EER: Up to 15.5 EER
Efficiency HSPF: Up to 12.5 HSPF
Energy Star Rated: Energy Star Rated
Refrigerant Type: R-410A
Sound Level: as low as 45 B
Compressor: BLDC Rotary
Factory Warranty Parts: 10 year parts warranty
Factory Warranty Compressor: 10 year compressor warranty
Manufacturer's Stated Benefits:

Outdoor Unit- Quantum
View Brochure
Model Family: AR**TSFYBWKXCV
Purpose: Heat and Cool
Zone Capability: Single zone
Efficiency SEER: Up to 23.5 SEER
Efficiency EER: Up to 13.95 EER
Efficiency HSPF: Up to 12 HSPF
Energy Star Rated: ENERGY STAR® labeled
Refrigerant Type: R-410A
Sound Level: 45 dB
Compressor: BLDC Rotary
Factory Warranty Parts: 10 Year Warranty with Registration
Factory Warranty Compressor: 10 Year Warranty with Registration
Manufacturer's Stated Benefits: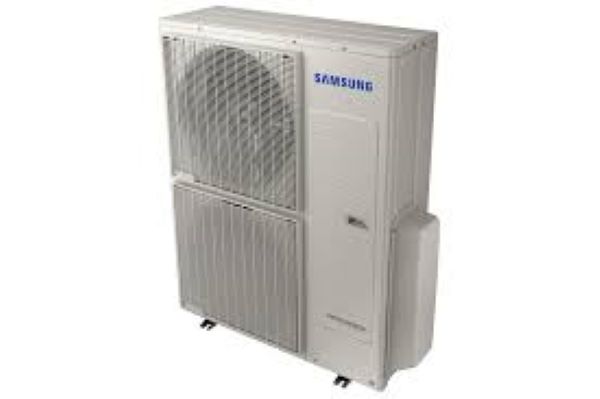 FJM - Free Joint Multi Outdoor
View Brochure
Model Family: AJ0***BXJ2CH/AA
Purpose: Heat and Cool
Zone Capability: Multi zone
Efficiency SEER: Up to 18.0 SEER
Efficiency EER: Up to 11.1 EER
Efficiency HSPF: Up to 9.5HSPF
Energy Star Rated: N/A
Refrigerant Type: R-410A
Sound Level: 48-51 dB
Compressor: Twin BLDC Rotary Inverter
Factory Warranty Parts: 10 year parts warranty
Factory Warranty Compressor: 10 year compressor warranty
Manufacturer's Stated Benefits:
Soft-start to reduce current demand during compressor start
Auto-restart after power loss
The outdoor unit shall be galvanized steel with a baked on powder coated finish for durability