QuietCool Whole House Fans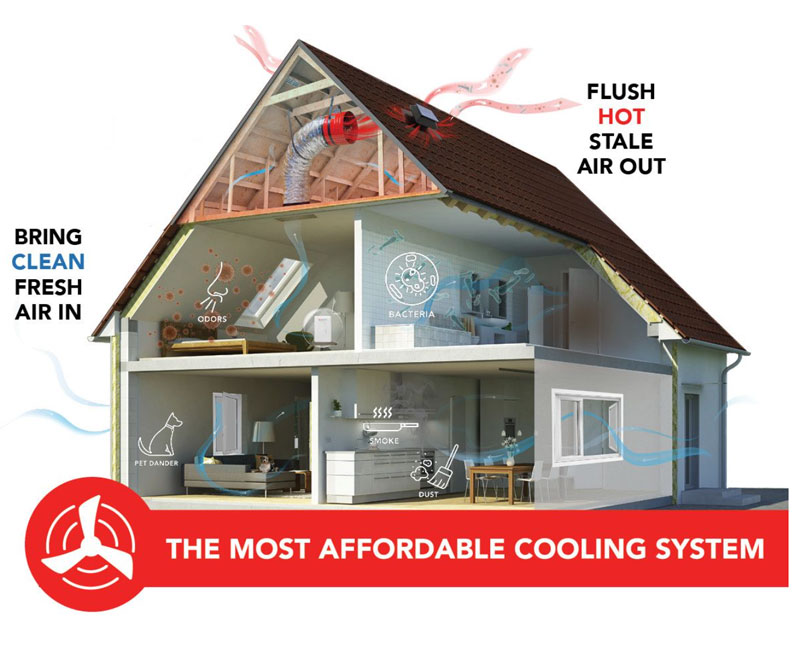 A whole house fan is a ventilation cooling system that uses less energy than a traditional air conditioner. This energy-efficient system works by pulling cool, outdoor air into your home and out your attic vents. This helps keep the mass in your home cooler than an air conditioner can. These whisper-quiet and energy-efficient wonders are the #1 residential cooling & ventilation appliance on the market. With a whole house fan, you're able to turn off your most expensive appliance, air conditioning, while improving the air quality and comfort of your home for just pennies per hour.

With new viruses emerging and homes and buildings being built tighter and tighter, it is very important to make sure the air quality inside your home is good.
Whole house fans have many benefits besides just cooling the home and help reducing electricity costs. They help to greatly improve the indoor air quality of a home by exhausting and ventilating the hot, stuffy and polluted air that is inside the home. Many homeowners think that the air outside is dusty and dirty and oppose to opening their windows, however, according to the American Lung Association, the air inside the home is up to 2 to 5 times more polluted than the outdoor air. This is due to the chemicals that are used in the home, pet dander, germs, allergens, etc.
This means that when a homeowner is running their whole house fan, they are getting rid of the polluted air inside their home and replacing it with cool, fresh outdoor air. Many customers state that their allergies went away when they installed the whole house fan!