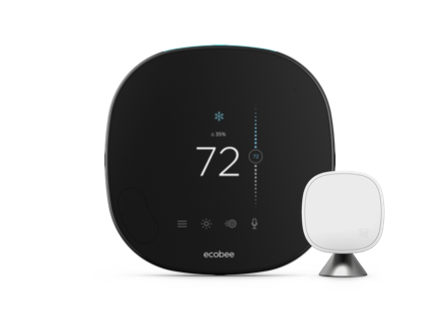 Thermostats are used to turn on heating or cooling systems to bring the home to a set temperature. In addition to basic temperature control, programmable thermostats can be used to manage the indoor environment of your home at different times of the day or week. This type of control can have a dramatic impact on the overall energy use of your home.
Ecobee Smart Thermostats
Maintain a comfortable home with Ecobee smart thermostats, that are Apple® HomeKit enabled, so you can control the temperature remotely using your compatible device. Home IQ helps you conserve energy. Reads temperature in multiple locations solving for uneven temperatures in the rooms that matter most.
Smart, really smart - Intuitively understands when to turn on your heating or cooling equipment based on your home's unique energy profile and the weather outside, making sure you're comfortable at all times.
Knows you have a life - Senses whether anyone's home and which rooms are occupied, delivering comfort when you're at home and saving you energy and money when you're not.
Lower your energy bills - Ecobee saves homeowners an average of 26% annually, paying for itself in energy savings.
Anytime, anywhere - Lets you monitor and control the temperature in your home anytime, anywhere, on your smartphone, tablet, or computer.
Honeywell - Lyric T6 Pro Smart Thermostat

Take control of your home comfort and save on energy costs with a The T6 Pro Smart Thermostat. Connected, simple and smart, the T6 Smart Thermostat is ENERGY STAR® certified and adapts to your lifestyle. It can learn your preferred comfort levels over time and heats or cools on schedule. If plans change, it's easy to adjust your home's temperature from any of your connected devices. Connect to the app to view and change temperature settings, program a 7-day schedule or just let the T6 respond automatically — it's designed to work with the heating stages of your existing system.
Venstar

With the built-in API, All of Vestar's connected thermostats can fit into most smart home systems or applications.
A common programming interface and specification to monitor and control your thermostat's functions on your Wi-Fi network
Integrate Venstar thermostats into home automation systems
Works with many existing 3rd party apps with specific drivers for Control 4 and RTI
We carry a complete line of thermostats. Let us help you choose the one that best matches your lifestyle.
Click here for the Venstar product brochure.
Nest Thermostat™
Meet the next generation thermostat. Most people leave the house at one temperature and forget to change it. Why should you have to figure out your thermostat? The Nest Learning Thermostat and Nest Thermostat E learn from you. Just turn it up and down for the first few days. It will get to know the temperatures you like and when you like them. Then it programs itself and creates a schedule for you. It even learns from your home and figures out how it heats or cools, because no two homes are exactly the same.
Teach it well and Nest can lower your heating and cooling bills up to 20%. Some programmable thermostats are programmed to save energy, but Nest remembers the temperatures you like and builds a schedule for you. It's so simple that 99% of Nests have schedules.